1. Sticky Toffee Apple Overnight Oats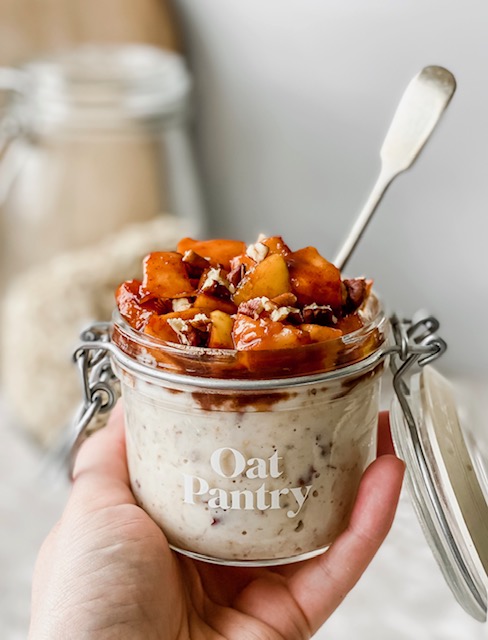 Ingredients:
Serves 1
For the oats
For the toffee apple compote
1 tablespoon butter or vegan butter substitute
1 large apple peeled, cored, and diced
1/2 teaspoon ground cinnamon
2 tablespoons date syrup
1 tablespoon water
Method:
For the oats
Combine oats and almond milk in a jar, put the lid on and leave to soak in the fridge overnight. In the morning give your overnight oats a good stir, to ensure all ingredients are mixed well.
For the apple compote
Add butter, apples, cinnamon, date syrup and water to a medium saucepan. Stir over medium heat for 3-5 minutes until apples are very tender.
Remove from heat and cool completely.
To serve, in the morning top your oats with the toffee apple compote.
---
2. Banana Bread Baked Oats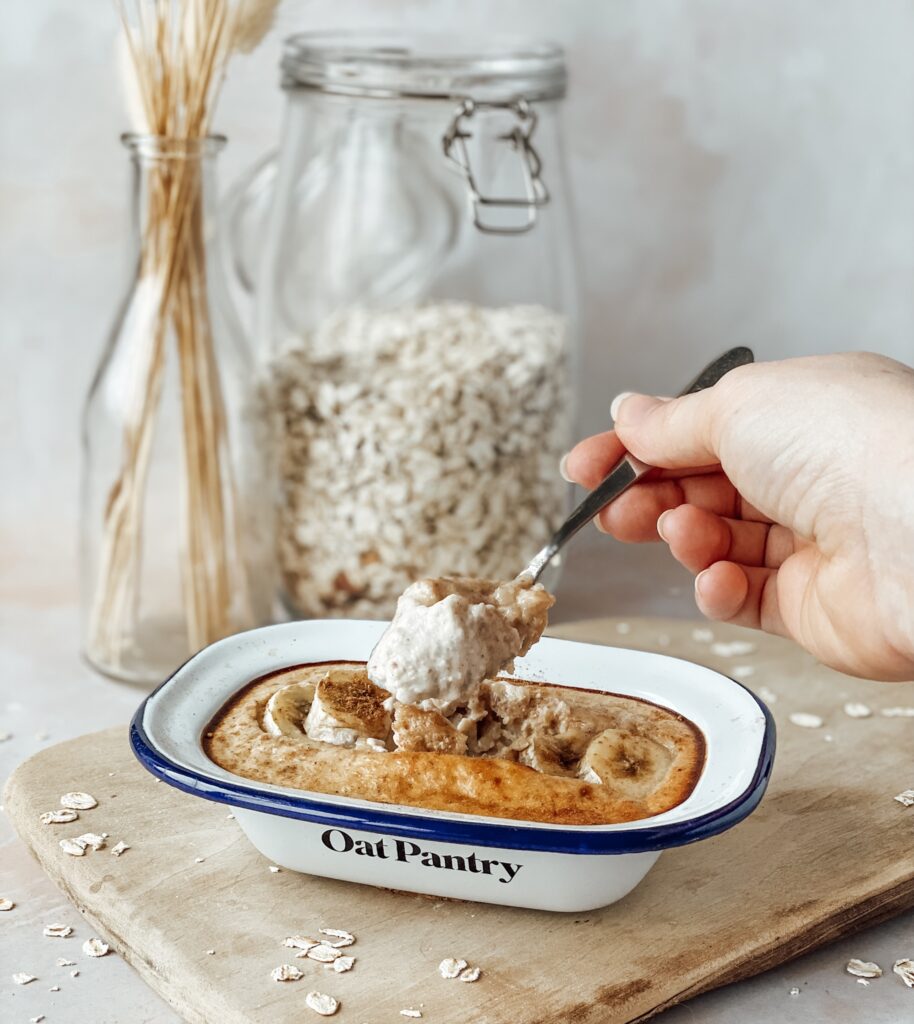 Method:

1. Preheat oven to 180°c.
2. In a bowl mix together all your baked oats mixture ingredients.
3. Then grease your Oat Pantry Baked Oats Dish and tip half of the baked oats mixture into the dish.
4. Then mix together in a separate bowl your cream cheese filling. And spoon on top of your half baked oats mixture in the middle.
5. Next, place the other half of your baked oats mixture on top.
6. Top with sliced banana and a sprinkle of cinnamon.
7. Bake for 15-20 mins until golden brown.
8. Enjoy!
---
3. Cinnamon Roll Baked Oats
Ingredients:
Serves 1
½ ripe banana mashed
2 tablespoons melted coconut oil
1 tablespoon maple syrup
¾ cup (68g) Oat Pantry Cinnamon Bun oat flour (made from blending our Oat Pantry Cinnamon Bun Porridge Oats)
¼ teaspoon salt
1 teaspoon baking powder
1 tablespoon almond flour or more oat flour (made from blending our Oat Pantry Cinnamon Bun Porridge Oats)
1 tablespoon coconut sugar
1 teaspoon cinnamon
Method:
In a mixing bowl, combine the mashed banana, coconut oil, maple syrup and mix. Then add the dry ingredients: oat flour, salt, baking powder, and almond flour or extra oat flour until a dough forms. You don't want the dough to be too sticky so add more oat flour as required, so you can get it to a consistency where you can roll it.
Next, in a separate small bowl, mix together the cinnamon and coconut sugar. Then roll out the dough you prepared previously and brush with more melted coconut oil, and then sprinkle on the cinnamon sugar to one side of the dough (this will be the inner side when you come to roll the dough). Cut the dough into four equal strips and start rolling. You can either make 4 separate rolls, or combine them all together, which is what we did to make this one large baked oats roll.
Then, bake the roll in a ramekin dish or mug (ensuring what you choose to use is oven safe) at 180 degrees Celsius for about 10 minutes.
If you'd like to add the vanilla 'icing' we have drizzled on top, simply mix one tablespoon of plain yoghurt of your choosing with one teaspoon of vanilla protein powder, and a dash of water and mix together. You could also just use vanilla flavoured yoghurt.
Enjoy!
---
4. Apple Pie & Custard Overnight Oats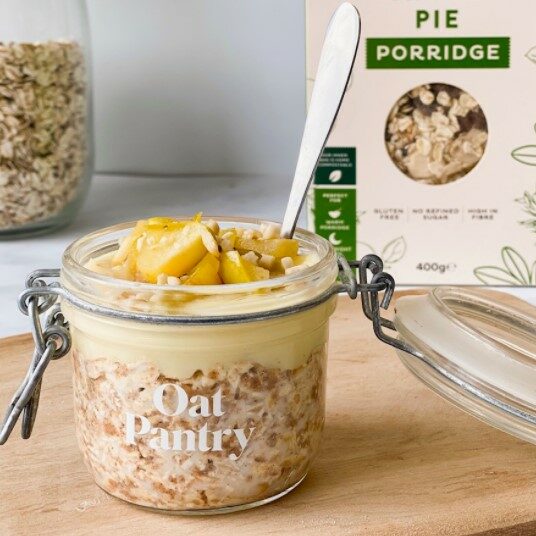 Ingredients:
Serves 1
100ml unsweetened almond milk
3 tbsp Alpro Soya Custard
1 apple
maple syrup (just a drizzle)
small handful of chopped nuts
Method:
Place 40g of Oat Pantry Apple Pie Porridge Oats with 100ml of unsweetened almond milk into a jar, close the lid and leave to soak in the fridge overnight.
Either the day before or in the morning prepare the stewed apples. Chop the apple into small pieces and combine with the maple syrup in a small bowl. Then microwave on high for 20 seconds at a time until you reach your desired softness.
Top your Oat Pantry Apple Pie overnight oats with the Alpro Custard, then the stewed apples and a small sprinkling of chopped nuts.
Lastly, ENJOY!
---
5. Cherry Bakewell Baked Oats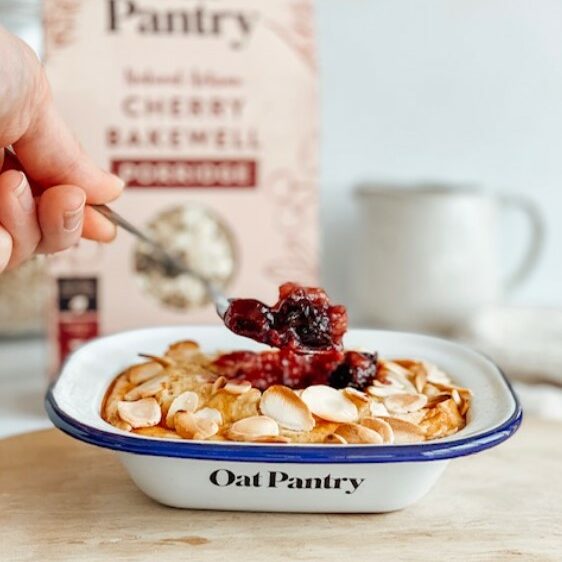 Ingredients:
Serves 1
• 40g Oat Pantry Cherry Bakewell Porridge Oats
• 1 level tsp of maple syrup or your sweetener of choice
• 1 small egg or chia/flaxseed egg for a vegan friendly version (replace an egg with 1 tablespoon of chia seeds or ground flaxseeds mixed with 3 tablespoons of water and let the mixture sit for 15 to 20 minutes or you can prepare it the night before)
• 100g plain yoghurt
• small handful of flaked almonds
• 1 tbsp of cherry jam
Method:
1. Preheat your oven to 200°C/fan 180°C/gas 6.
2. Place all the ingredients in a bowl (excluding the cherry jam and flaked almonds) and mix together well. Transfer the mixture to a small ovenproof dish. Add the tbsp of cherry jam to the centre of your mixture and sprinkle the flaked almonds around the jam (you can lightly press the almonds into the oat mixture or you can add half way through baking depending on how crispy you want them). Then bake in the oven for 25-30 minutes, or until browned.
---
6. Cinnamon, Apple & Carrot Porridge Topping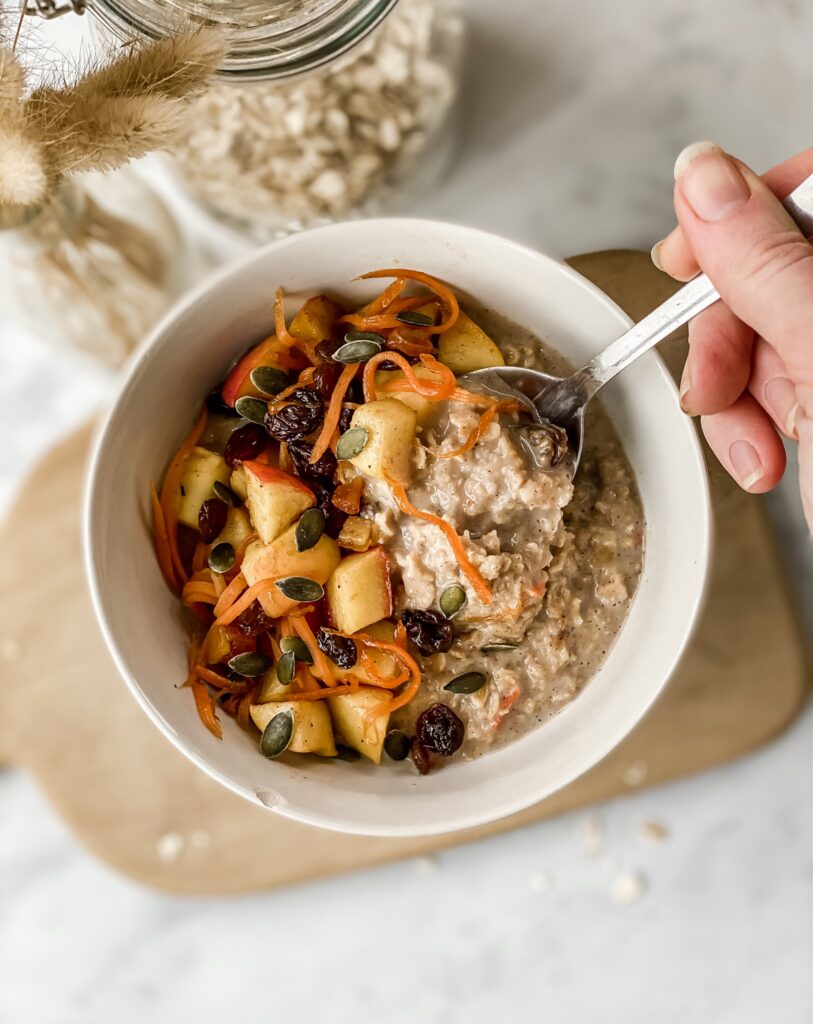 Ingredients:
1 small carrot
1 apple
1 tbsp maple syrup
1 tsp cinnamon
1/3 cup raisins
dash of lemon juice
Method:
To make the topping grate a small carrot and dice an apple.
Then add these to a small saucepan over a medium heat.
Add a tablespoon of maple syrup, a teaspoon of cinnamon, 1/3 cup of raisins and a dash of lemon juice.
Continually stir, whilst heating it for approx. 5-10 mins until the apple & carrot was nicely softened.
You can make this ahead of time and reheat when serving with your favourite Oat Pantry Porridge bowl, we highly recommend serving it with our Oat Pantry Carrot Cake Porridge.