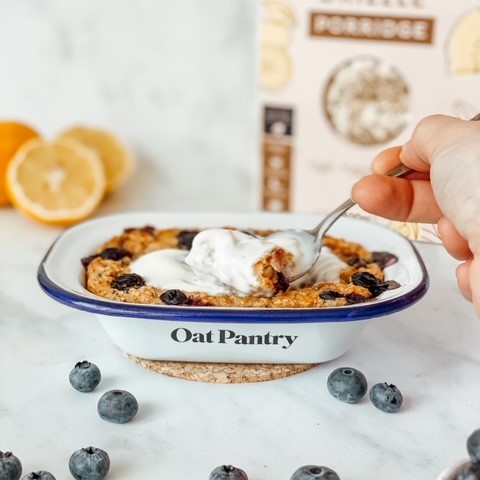 Looking to add a little excitement to your morning breakfast routine? Then you should definitely give these delicious Blueberry Lemon Baked Oats a try, made with our new Oat Pantry Lemon Drizzle Porridge.
What Are Baked Oats?
Baked oats have gained popularity as a delicious and nutritious breakfast option that offers a delightful twist to traditional porridge. Baking oats in the oven transforms them into a warm and comforting dish with a texture reminiscent of a soft, cake-like consistency.
Benefits Of Baked Oats
Excellent source of complex carbohydrates for sustained energy
High in fibre, aiding digestion and promoting feelings of fullness
Customisable with nutritious ingredients like fruits, nuts, and seeds
Provides essential vitamins, minerals, and antioxidants
Allows for convenient meal prepping for quick and easy breakfasts.
How To Make Blueberry Lemon Baked Oats?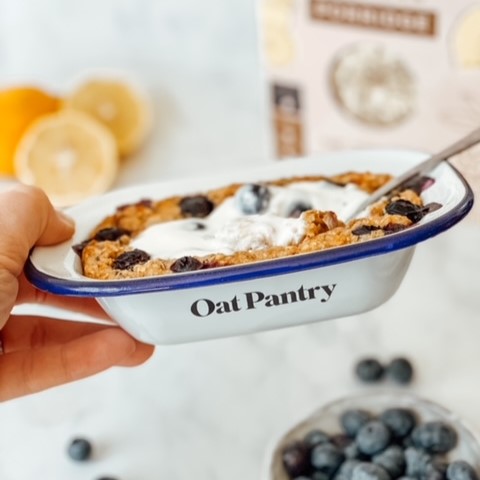 Ingredients:
• 60g Oat Pantry Lemon Drizzle Porridge Oats
• 1 tsp baking powder
• 125ml unsweetened almond milk
• 1/2 banana (mashed)
• handful of fresh or frozen blueberries
Method:
1. Preheat the oven to 180 degrees Celsius.
2. In a bowl, mix together all the ingredients, excluding the blueberries.
3. Grease an oven proof dish (we have the perfect single serve baked oats dish available in the accessories section of our online shop).
4. Empty half of the mixture into the dish, sprinkle half of the blueberries on top, then add the remaining mixture and sprinkle the last of the blueberries on top (lightly pressing them in).
5. Bake in the oven for 15 minutes or until golden brown.
6. Top with your favourite plain/vanilla yoghurt and enjoy!