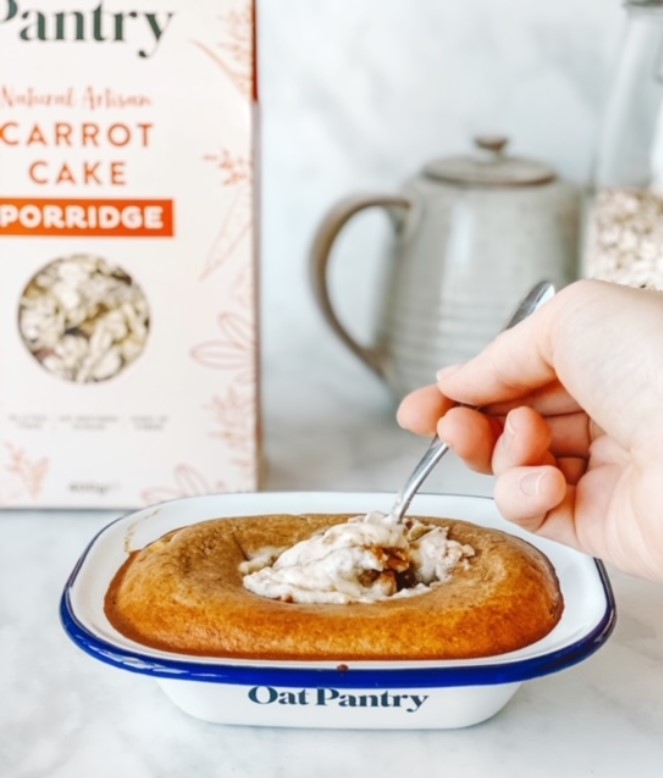 If you love carrot cake, then you'll be sure to love this baked oats breakfast version with a vanilla protein yoghurt middle. This Carrot Cake Baked Oats tastes JUST like carrot cake, but in a lighter, breakfast friendly form.
Ingredients:
129ml milk of choice
1 tsp baking powder
half banana
drizzle of maple syrup
2 tbsp plain yoghurt of choice (a thick yoghurt texture is better for that classic Carrot Cake cream cheese feel)
1/3 scoop of vanilla protein powder
Method:
Pre-heat oven to 180 degrees Celsius & grease an oven proof dish.
Into a food blender, add the Oat Pantry Carrot Cake porridge oats, baking powder, milk, maple syrup & banana.
Blend until fully combined.
Empty half the mixture into the dish.
In a separate bowl mix together the yoghurt and protein powder, until well combined.
Place the yoghurt & protein mixture into the middle of the baked oats dish and top with the remaining oats mixture.
Place in the oven for approximately 15 minutes or until browned.
Enjoy!