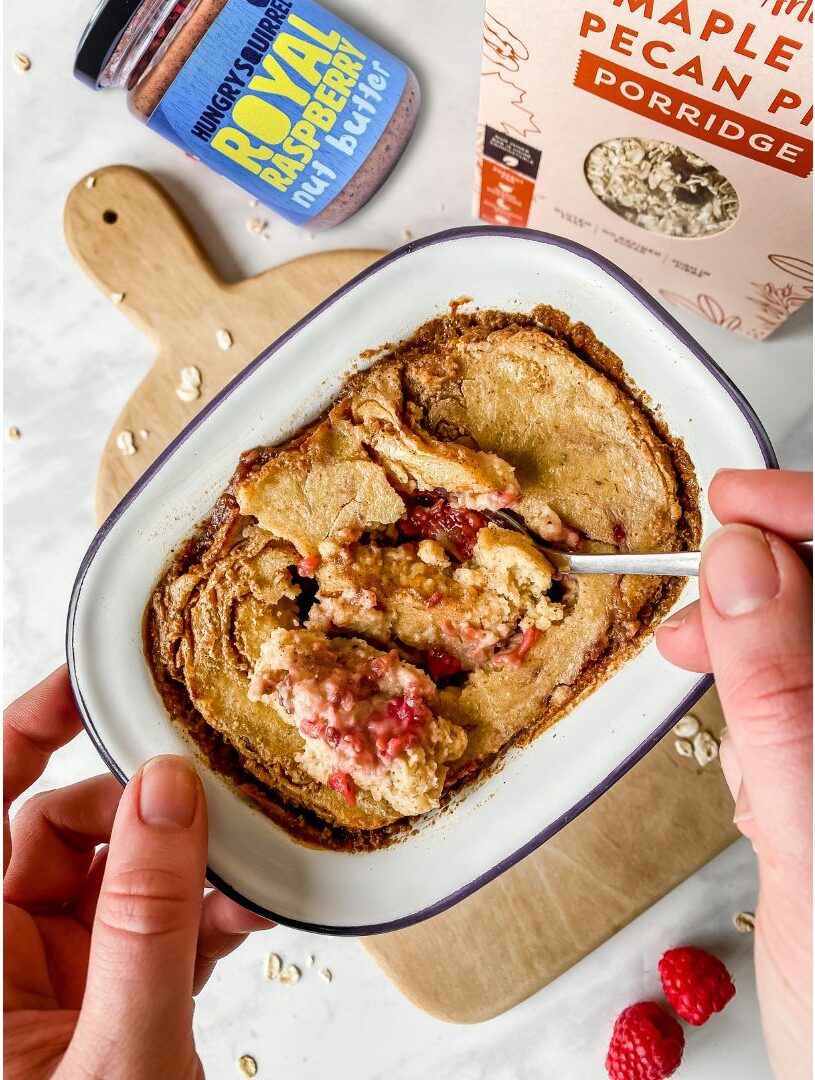 This 'Maple & Raspberry Baked Oats' recipe is a twist on the classic PB & J flavour. A simple and delicious recipe that can also easily be baked the day before and reheated if you've got a busy morning.
Baked oats have gained popularity as a delicious and nutritious breakfast option that offers a delightful twist to traditional oatmeal. Baking oats in the oven transforms them into a warm and comforting dish with a texture reminiscent of a soft, cake-like consistency.
To prepare baked oats is simple all you need is a mixture of rolled oats, a liquid like milk or yogurt, and additional ingredients.
Ingredients:
• 40g Oat Pantry Maple & Pecan Pie Porridge Oats
• 1 level tsp of maple syrup or your sweetener of choice
• 1 small egg or chia/flaxseed egg for a vegan friendly version (replace an egg with 1 tablespoon of chia seeds or ground flaxseeds mixed with 3 tablespoons of water and let the mixture sit for 15 to 20 minutes or you can prepare it the night before)
• 100g plain yoghurt of your choice
• 1 tbsp Hungry Squirrel Royal Raspberry Nut Butter
• 1 tbsp of raspberry jam or a homemade version (5 raspberries, 1 tsp chia seeds and a dash of water, microwaved for 30 secs at a time until the fruit can be mashed into a jam like consistency)
Method:
1. Preheat your oven to 200°C/fan 180°C/gas 6.
2. Place all the ingredients in a bowl (excluding the raspberry jam and raspberry nut butter) and mix together well.
3. Transfer the mixture to a small ovenproof dish. Add the tbsp of raspberry jam to the centre of your mixture and drizzle the Hungry Squirrel Royal Raspberry Nut Butter around the jam. Then bake in the oven for 25-30 minutes, or until browned.