You already know that here at Oat Pantry, we love to talk to you about our partner producers, whose expertise plays a big role in the quality of our granola & porridge. The Original Bennett and Dunn Cold Pressed Rapeseed Oil is a key ingredient in our Oat Pantry granola, not only is it a healthy alternative to olive oil but it adds a delicious creamy nutty flavour to our recipes.
Read on to discover more about the Bennett & Dunn story in our interview with local suppliers Tracey & Rupert Bennett.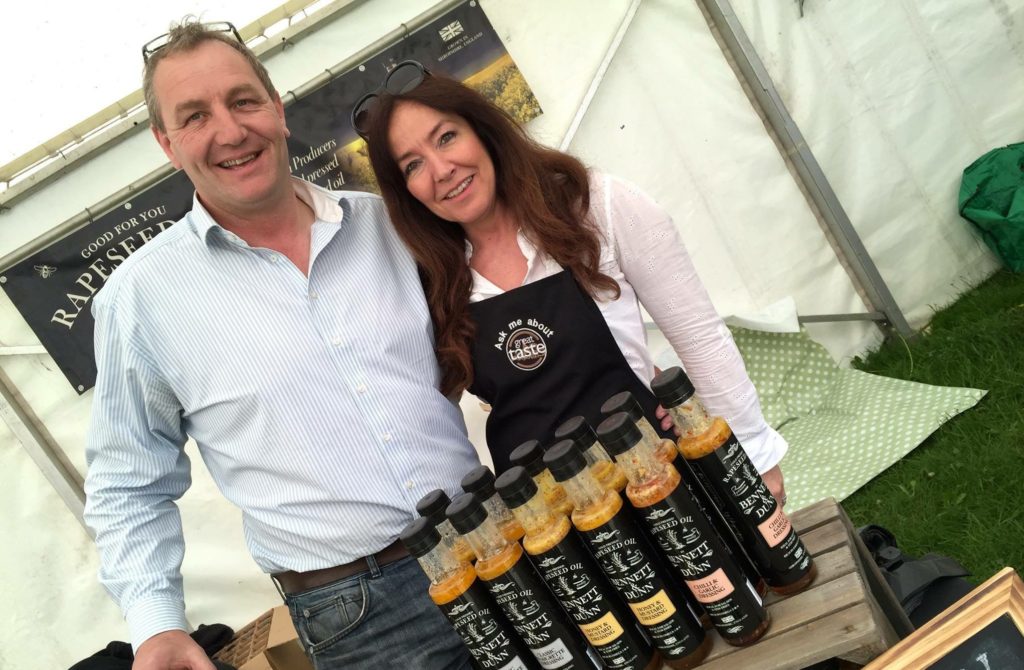 The Bennett & Dunn Story…
Bennett & Dunn Cold Pressed Rapeseed Oil is produced by husband and wife team Tracey and Rupert in Shropshire, England.
We produce cold pressed, triple filtered, hand bottled Rapeseed Oil drawn from Shropshire's irresistible landscape. We started Bennett & Dunn in 2014 after watching celebrity Chefs on the television cooking with and recommending Cold Pressed Rapeseed Oil as a great British healthy alternative to extra virgin olive oil.
Rupert has a 30 year farming background, and I have lots of experience in retail. After introducing our oil to local farm Shops and chefs, the response was fantastic. This is due in part to Rupert's passion and dedication to quality, he keeps a tea spoon next to the press and tastes the oil at least once a day to make sure it's always perfect for you. Nothing is added between the fields and the bottle….it's just full of natural goodness.
Harvested in late July our seeds are cleaned and then stored ready to be pressed to order every month ensuring the freshest oil when bottled. The oil is extracted by gently squeezing the seed, a traditional process that keeps the delicious creamy nutty flavour, texture and health benefits intact….if you'd like to see Rupert working his magic, take a look at the short video on our website (https://www.bennettanddunn.co.uk/).
Our award winning Cold Pressed Rapeseed Oil can be used in place of other oils and butter in all your recipes. Dipping, drizzling, dressing and because it has the highest burn point of 230 degrees C, unlike olive oil, it does not turn toxic at high temperature cooking It's perfect for pan frying, roasting and stir-fry's….great for baking cakes too. It also has many health benefits; it contains half the saturated fat of olive oil and ten times more omega 3 which is proven to lower cholesterol as part of a good diet.
It's dairy free, gluten free and suitable for vegetarian and vegan diets.
We are also proud to be a zero waste business. Our by-product, called Rapeseed cake still has lots of nutrition and is used by local farmers. Any packaging is either reused or taken to the local recycling centre.
We aim to continue providing you with only the finest quality produce.
Thank you
Tracey and Rupert Bennett