Look no further if you're looking for the best porridge topping ideas. There are plenty of things that you can add to your porridge to make it more interesting.
Did you ever think porridge was boring or only a diet-friendly dish?
To your surprise, it doesn't have to taste the same every time, and with all of the different porridge oat flavours at Oat Pantry, you can enjoy a different flavour of porridge every morning. View our porridge flavours here.
We want to show you that there are a lot of choices when it comes to making porridge. There are so many different flavours and lots of tasty varieties of toppings to make breakfast something worth jumping out of bed for!
What Can I Put On Top Of Porridge?
Healthy Porridge Toppings
Everyone loves porridge. It's comforting, filling, and most of all, warm. But when it comes to porridge toppings, the options are endless. There's so much you can eat.
By using some of these topping ideas, you can add extra nutritional benefits to your morning breakfast bowl.
Delicious Porridge Topping Ideas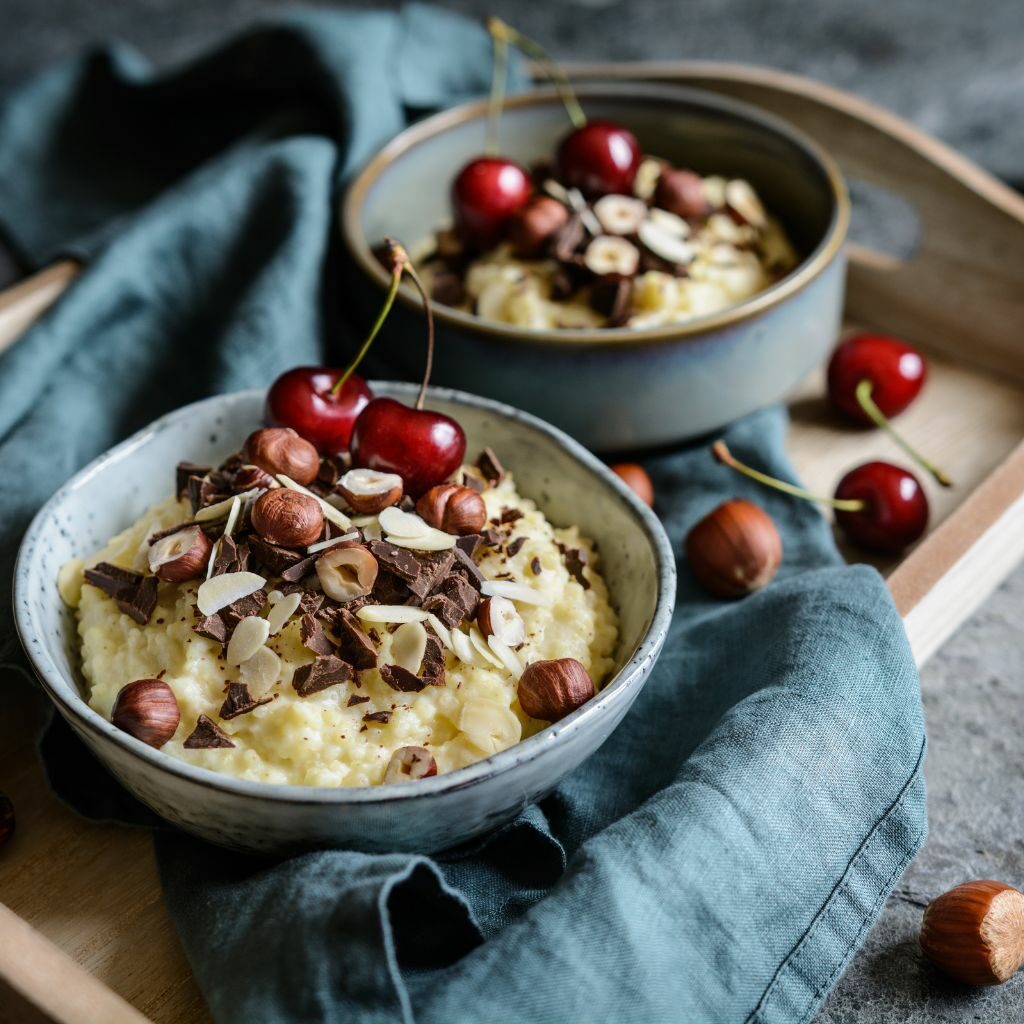 An ingenious topping is quickly prepared, ideally while the porridge is cooking. It turns the breakfast into a small work of art and tastes unbelievably good with the creamy porridge.
That's why we will look at some of the most popular porridge ingredients that people tend to put on their porridge. These toppings can all be great options when making breakfast.
Types of Healthy Porridge Toppings
Porridge is unappealing without a nutritious topping. To make a complete meal, experiment with a variety of toppings.
Here are some great ideas for porridge toppings you can use.
Crunchy Porridge Toppings
1. Nuts
As nuts offer a crunchy bite to the fairly soft oat flakes, nuts truly make porridge the perfect breakfast. Which nuts you want to use is entirely up to personal preference: cashews, hazelnuts, walnuts, almonds, pistachios, peanuts, pine nuts, nutmeg, or coconut chips all work nicely with oat flakes. If you enjoy a variety of nuts, choose a nut mix.
2. Seeds
Seeds are well recognized as superfoods. Adding a variety of seeds boosts the nutritious value of the porridge. You can use chia seeds, flaxseed, sunflower seeds, or pumpkin seeds as a crunchy porridge topping.
Tip: Grind or sprinkle them over hot or cold porridge.
3. Sweet Porridge Toppings
You don't have to do this, but it can make your porridge sweeter if you have a sweet tooth in the morning and want to avoid sugary cereals and so on.
Honey, maple syrup, date syrup, grape juice, cocoa, and brown sugar are excellent natural sweeteners.
Tip: Simply pour your preferred natural sweetener over your hot or cold porridge and enjoy.
4. Fruity Porridge Toppings
Fruits give fruity characteristics to the oat flakes. They're especially good with hot or cold porridge or overnight oats. If you want a cost effective and good shelf life solution, consider frozen fruit in particular.
Apples, bananas, pomegranates, pears, cherries, kiwi, figs, peaches, and berries like strawberries, blueberries, cranberries, and raspberries can all be added.
Tip: Fruits should be added at the end as a topping for overnight oats and porridge. This way, the fruits will keep beautifully fresh and crunchy.
5. Spicy Oats Topping
You could try different spices, whether with porridge, baked oats, or overnight oats. We recommend cinnamon, cloves, cardamom, nutmeg, ginger, turmeric, and allspice.
Tip: Start gently and blend spices for a unique flavour experience. It is advisable to use ground spices since they are more evenly distributed and taste better in porridge. If you just want a hint of extra spice, simply add a little sprinkle on top.
6. Low-Calorie Porridge Toppings
We understand that a lot of people who have porridge in the morning, are looking for a healthy, calorie controlled breakfast option. This is why we have worked with our in-house Nutritionist to develop our unique flavours of porridge, but it's also why we understand when it comes to toppings nutritious options are key.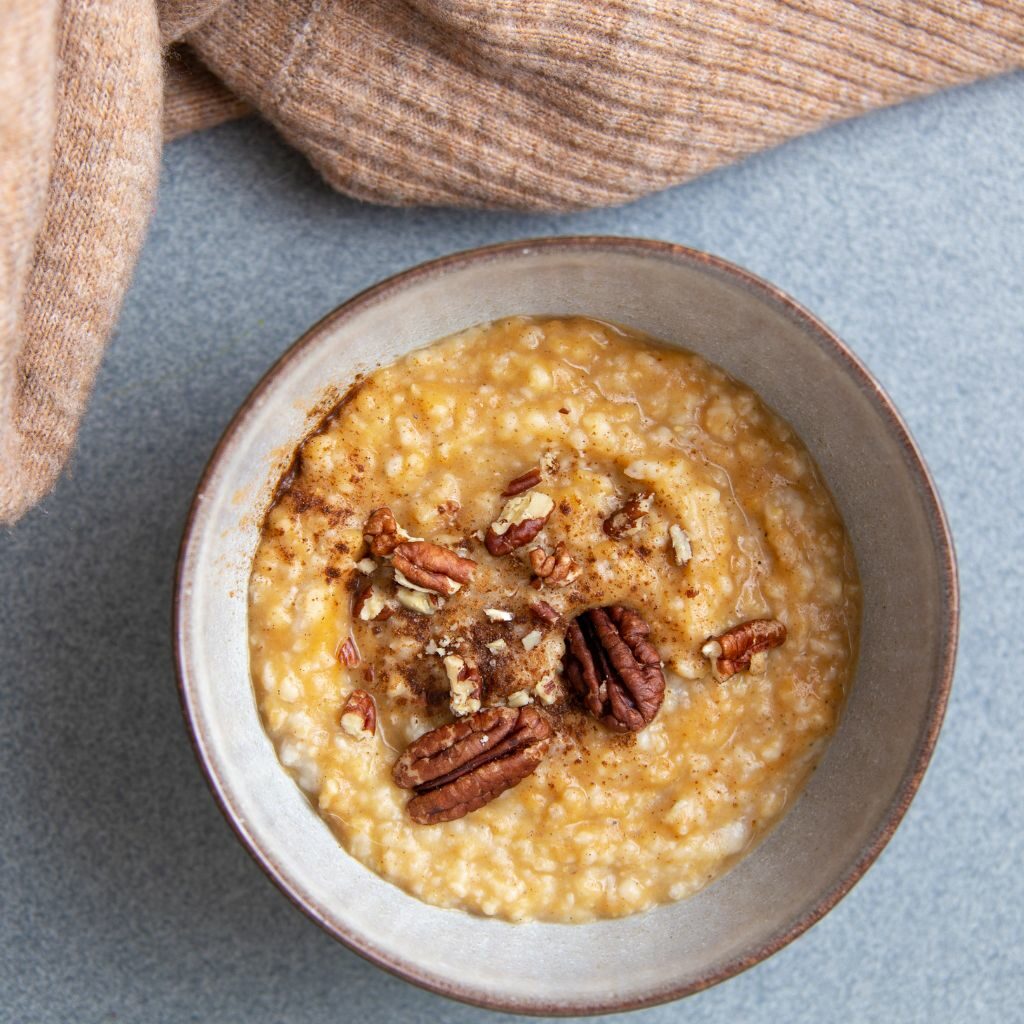 Here we're going to share some low-calorie and high nutrition porridge topping ideas you could try:
Sliced banana + chopped walnuts + pinch of cinnamon
Dark chocolate chips + chopped hazelnuts
Cranberries + chopped apples + cinnamon + nutmeg
Chopped fig + pistachios
Dark chocolate chips + chopped almonds + shredded coconut chips
Raspberries + dark chocolate chips + chia seeds
Pumpkin puree + maple syrup + chopped pecans + pinch of pumpkin pie spice
The Final Takeaway!
Do you normally have breakfast at work on weekdays? Then here's some fantastic advice for you: Separately pack your porridge toppings!
You will need three different containers.
A container in which to carry your porridge/overnight oats (we have a great single serve overnight oats jar here).
Second, a container for your porridge topping (chopped fruits or any of the above-mentioned natural sweeteners like maple syrup or honey).
The final one is for crunchy toppings such as nuts, seeds, kernels, and chocolate.
So you have all of the ingredients for your breakfast ready and may have a perfectly prepared porridge with toppings in the workplace. We bet your colleagues will envy you!